Die schöne Müllerin [The Fair Maid of the Mill]
Die schöne Müllerin (German pronunciation: [diː ˈʃøːnə ˈmʏlɐʁɪn],"The Fair Maid of the Mill", Op. 25, D. 795), is a song cycle by Franz Schubert from 1823 based on 20 poems by Wilhelm Müller.
It is the first of Schubert's two seminal cycles (preceding Winterreise), and a pinnacle of Lied repertoire.
Die schöne Müllerin is performed by a pianist and a solo singer.
The vocal part falls in the range of a tenor or soprano voice, but is often sung by other voices, transposed to a lower range, a precedent established by Schubert himself.
Since the protagonist is a young man, performances by women's voices are less common. The piano part bears much of the expressive burden of the work, and is only seldom a mere 'accompaniment' to the singer.
A typical performance lasts around sixty to seventy minutes.
Das Wandern
Wilhelm Müller

Das Wandern ist des Müllers Lust,
Das Wandern!
Das muss ein schlechter Müller sein,
Dem niemals fiel das Wandern ein,
Das Wandern

Vom Wasser haben wir's gelernt,
Vom Wasser!
Das hat nicht Rast bei Tag und Nacht,
Ist stets auf Wanderschaft bedacht,
Das Wasser.

Das sehn wir auch den Rädern ab,
Den Rädern!
gar nicht gerne stille stehn,
Die sich mein Tag nicht müde gehn,
Die Räder.

Die Steine selbst, so schwer sie sind,
Die Steine!
Sie tanzen mit den muntern Reihn
Und wollen gar noch schneller sein,
Die Steine.

O Wandern, Wandern, meine Lust,
O Wandern!
Herr Meister und Frau Meisterin,
Lasst mich in Frieden weiter ziehn
Und wandern.
Wandering
English Translation © Richard Wigmore

To wander is the miller's delight;
to wander!
A poor miller he must be
who never thought of wandering,
of wandering.

We have learnt it from the water,
from the water!
It never rests, by day or night,
but is always intent on wandering,
the water.

We can see it in the wheels too,
the wheels!
They never care to stand still
but turn tirelessly the whole day long,
the wheels.

The stones themselves, heavy as they are,
the stones!
They join in the merry dance
and seek to move still faster,
the stones.

O wandering, my delight,
O wandering!
Master and mistress,
let me go my way in peace,
and wander.
1. Das Wandern
2. Wohin?
3. Halt!
4. Danksagung an den Bach
5. Am Feierabend
6. Der Neugierige
7. Ungeduld
8. Morgengruss
9. Des Müllers Blumen
10. Tränenregen
11. Mein!
12. Pause
13. Mit dem grünen Lautenbande
14. Der Jäger
15. Eifersucht und Stolz
16. Die liebe Farbe
17. Die böse Farbe
18. Trockne Blumen
19. Der Müller und der Bach
20. Des Baches Wiegenlied
1, Wandering
2. Where to?
3. Halt
4. hanksgiving to the brook
5. After Work
6. The Inquisitive One
7. Impatience
8. Morning greeting
9. The Miller's flowers
10. Shower of tears
11. Mine!
12. Pause
13, To accompany the lute's green ribbon
14. The Huntsman
15. Jealousy and Pride
16. The beloved colour
17. The loathsome colour
18. Withered flowers
19. The Miller and the Brook
20. The brook's lullaby
Composer Franz Schubert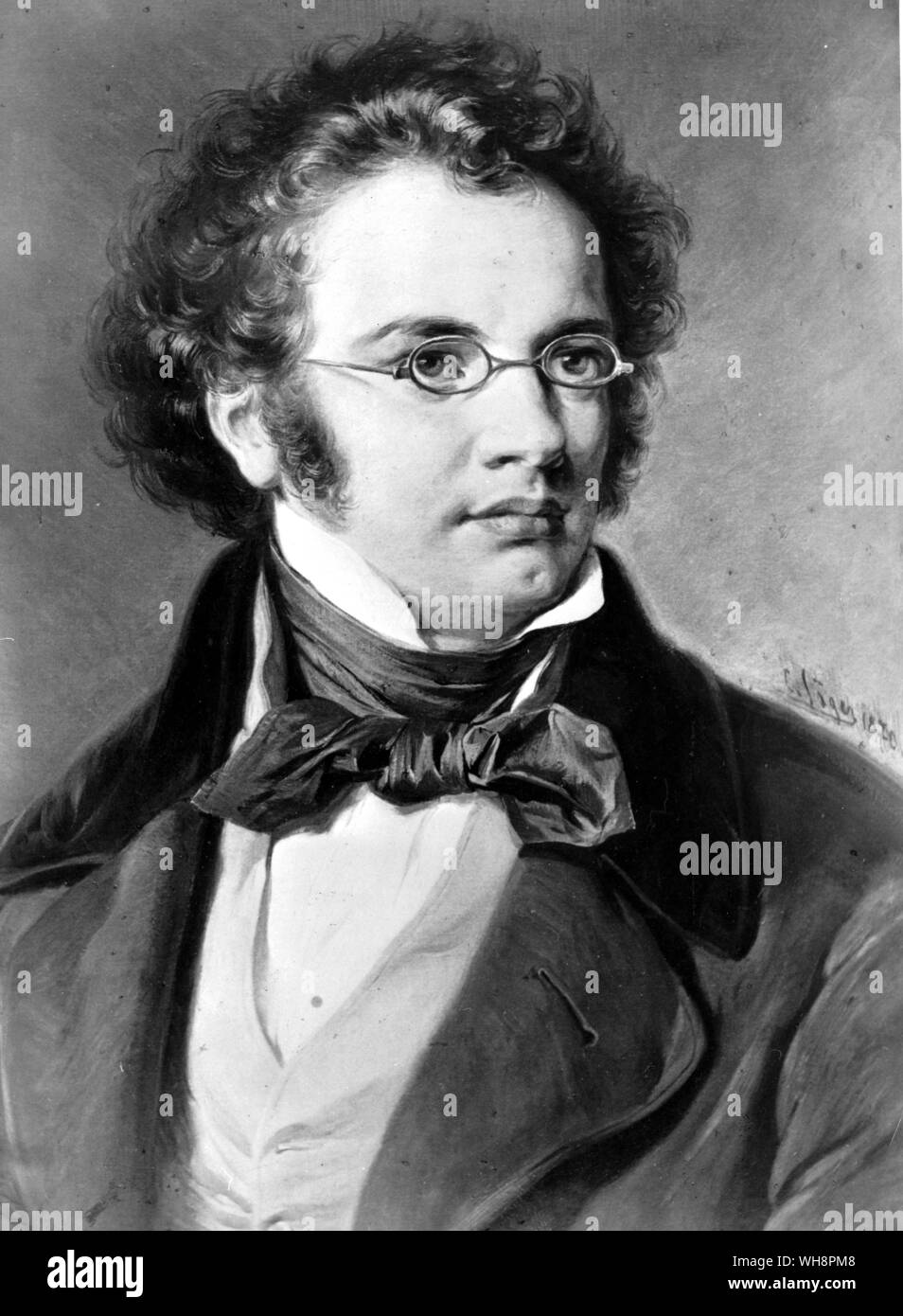 Franz Peter Schubert was an late Classical and early Romantic composer. He produced a vast oeuvre during his short life, composing more the 600 vocal works (largely Lieder), and well as several symphonies, operas, and a large body of piano music. He was uncommonly gifted from a young age, but appreciation of his music was limited during his lifetime. His work became more popular in the decades after his death, and was praised by 19th century composers, including Mendelssohn, Schumann, Brahms, and Liszt.
Today, Schubert is ranked among the greatest composers in the history of Western music and his work continues to be admired and performed.
Song Cycles: Die schöne Müllerin
Das Wanderm



Song


Die schöne Müllerin image

Die schöne Müllerin (German pronunciation: [diː ˈʃøːnə ˈmʏlɐʁɪn],"The Fair Maid of the Mill", Op. 25, D. 795), is a song cycle by Franz Schubert from 1823 based on 20 poems by Wilhelm Müller. It is the first of Schubert's two seminal cycles (preceding Winterreise), and a pinnacle of Lied repertoire.
Die schöne Müllerin is performed by a pianist and a solo singer. The vocal part falls in the range of a tenor or soprano voice, but is often sung by other voices, transposed to a lower range, a precedent established by Schubert himself. Since the protagonist is a young man, performances by women's voices are less common. The piano part bears much of the expressive burden of the work, and is only seldom a mere 'accompaniment' to the singer. A typical performance lasts around sixty to seventy minutes.

Synopsis

"Das Wandern" ("Wandering"; B♭ major): "Wandering is the miller's joy"
"Wohin?" ("Where to?"; G major): "Is this my path then? Oh tell me, brook, where to?"
"Halt!" ("Stop!"; C major): "Dear little Brook, is this what you meant?"
"Danksagung an den Bach" ("Thanksgiving to the Brook"; G major)
"Am Feierabend" ("Evening's Rest"; A minor): "If only I could move the millstones alone!
"Der Neugierige" ("The Inquirer"; B major): "Tell me, little Brook
"Ungeduld" ("Impatience"; A major): "My heart is yours, and it will be forever!"
"Morgengruß" ("Morning Greeting"; C major): "Does my greeting displease you so?"
"Des Müllers Blumen" ("The Miller's Flowers"; A major): "The flowers will whisper to her as in a dream: forget me not!"
"Tränenregen" ("Rain of Tears"; A major): "She said: 'A rain is coming
"Mein!" ("Mine!"; D major): "Are these all the flowers you have, spring? Can you not shine brighter, sun? The beloved Millermaid is mine! Mine!"
"Pause" ("Interlude"; B♭ major): "Is it the echo of my love's pain?
"Mit dem grünen Lautenbande" ("With the Green Lute-Ribbon"; B♭ major)
"Wind the green ribbon into your locks, since you like green so much!"
"Der Jäger" ("The Hunter"; C minor): "There is no game here for you to hunt! Only a doe, a tame one, for me!"
"Eifersucht und Stolz" ("Jealousy and Pride"; G minor): "Where to so fast and wild, dear brook? Turn back, and scold your maiden!"
"Die liebe Farbe" ("The Beloved Colour"
"Die böse Farbe" ("The Hateful Colour"; B major): "Oh green, you hateful color you!
"Trockne Blumen" ("Withered Flowers"; E minor): "And when she passes my grave, she will think 'He was true to me!'"
"Der Müller und der Bach" ("The Miller and the Brook"; G minor): "Oh dear little brook, you mean so well
"Des Baches Wiegenlied" ("The Brook's Lullaby"; E major)
Kwan Ho Chung - June 2, 2023